A nice Jammy Guitar remix of Disco Ball by Matthew S.  
What is Jammy?
Jammy is a gadget made to impress –it combines cutting-edge technology with a cool nostalgic look.The Jammy digital guitar is equipped with the adjustable tension interchangeable steel strings. It emulates different guitar techniques like bending, hammer-ons, pull-offs, slides, etc. Jammy's 1/8″ and a 1/4″ jacks allow to stick in the regular earphones or plug the guitar straight into an amp. The audio signal is generated and processed entirely on board –a bunch of guitar tones and FX presets are available for the user with Jammy only, no smartphone or tablet needed.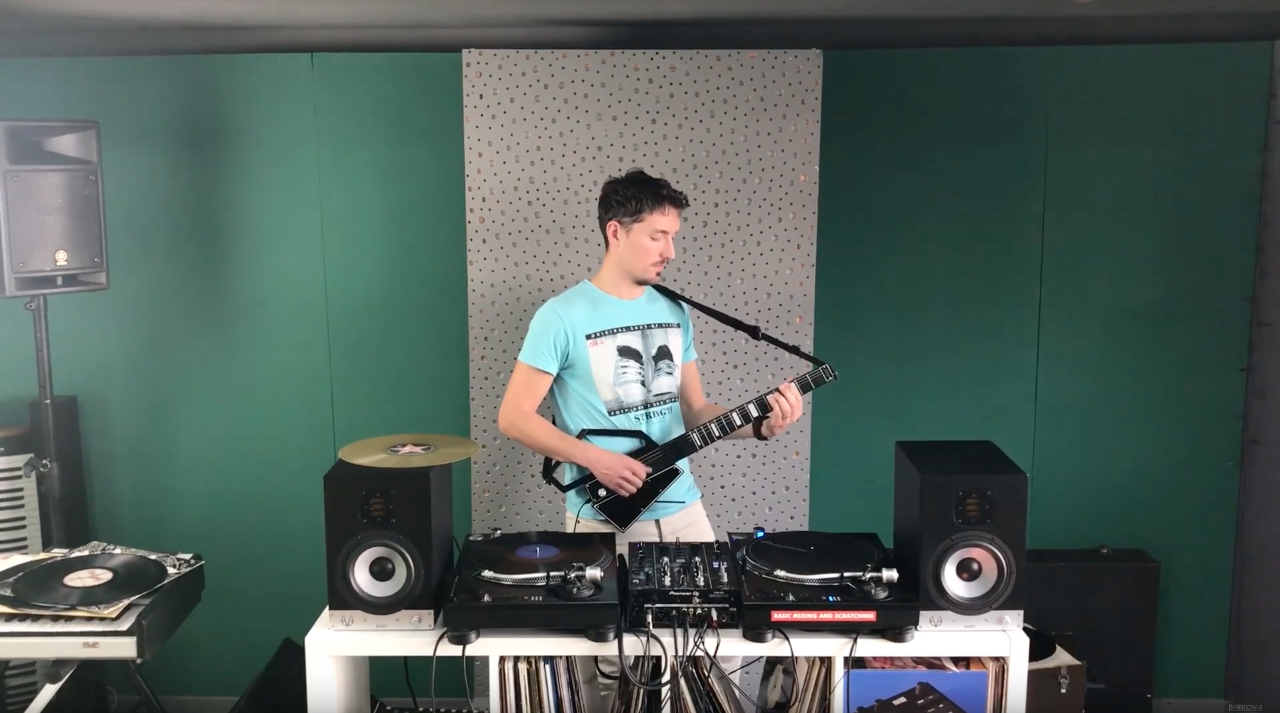 Jammy can be used as a sampler or a MIDI controller via USB-C or a wireless Bluetooth connection. It's an appropriate option for guitarists who want to broaden their horizons delving into electronic music, but don't feel comfortable with keyboards. Jammy is compatible with GarageBand, Ableton Live, FL Studio, Cakewalk, and other digital audio workstations. Its Auto-Recording feature caches everything the user plays on a special built-in memory unit and allows to retrieve the user's sessions in a 48-hour period –so not a single note will be lost.
Although totally autonomous, Jammy can be also used with a free companion app that widens the guitar's capacities. The Jammy mobile app allows to use the metronome, switch the guitar type, change the tuning, adjust the FX parameters and configure the FX chain to achieve the desired sound.
The Jammy app offers a bunch of backing tracks in different genres to jam along to. It also facilitates the user's improvisation prowess by giving a range of notes for theuser to easily combine into licks and solos over the underlying harmony of the backing track's chords.
The company shipped the first batch of the guitars to beta-testers in December 2018 and will start worldwide shipping at the beginning of 2019 at the estimated prices of $349 (guitar, strаp, soft case, USB-C cable) and $399 (guitar, strap, soft case, USB-C cable + detachable frame). The Jammy guitars are available for pre-orders at playjammy.com.