The book celebrates the art and science of interface design in electronic music by exploring the functional, artistic, philosophical, and aesthetic worlds within the mysterious link between player and machine.
45 exclusive interviews with artists, designers, and makers:
Including Imogen Heap, Dorit Chrysler, Suzanne Ciani, Richard Devine, DiViNCi, Laura Escudé, Ean Golden, Axel Hartmann, Larry Heard, Roger Linn, Keith McMillen, Moldover, Jordan Rudess, Dave Smith, Tatsuya Takahashi, and others, along with well-known music industry brands like Ableton, Arturia, DJ TechTools, Elektron, Korg, Make Noise, monome, Moog, Native Instruments, Novation, Propellerhead, Roland, Teenage Engineering, and Yamaha.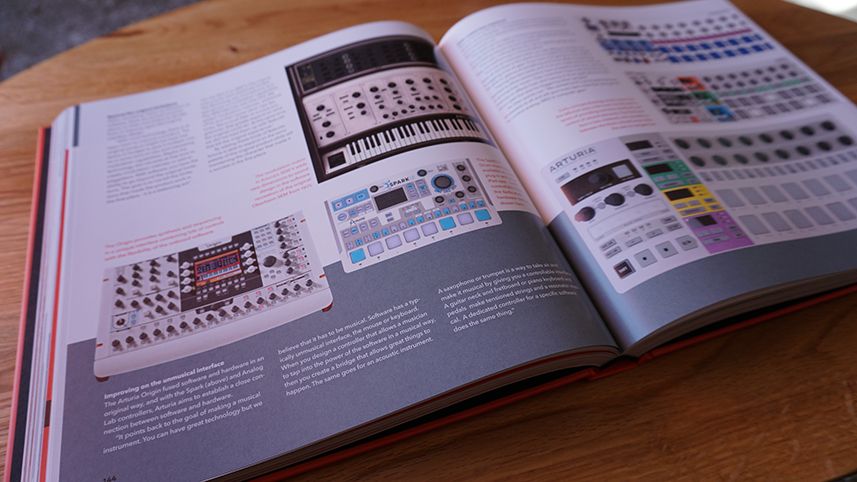 Dive into the ideas behind music gear like synthesizers, drum machines, sequencers, DJ equipment, DAWs, and iOS apps. Explore sections on design principles, control elements, visualization of sound, and concepts such as grids, MPC, multitouch, modular, and much more.
The book talks about contemporary and vintage synths, drum machines, DJ controllers and then back into software and apps and how that interaction occurs. Kim goes on to examine principles and techniques for interface design. Getting down to workflows, usability and all the way to the individual nature of controls like knobs, faders, touch-strips and joysticks.
It's full of interviews with over 20 artists, brands and technology makers to discover how they have shaped and been shaped by the world of electronic music. The list includes Roland, Native Instruments, Roger Linn, Dave Smith, Suzanne Ciani and Richard Divine amongst others. Jean-Michel Jarre was so impressed with the project that he offered to write the forward. It looks stunning as a piece of work and would look great on the coffee table of anyone with the slightest interest in music technology and design.
PUSH TURN MOVE was funded on Kickstarter within an hour on April 18th and eventually reached 1,300% funding from more than 1,400 people by May 22nd. Since many missed out the Kickstarter special offers, we have decided to give everyone the chance to get a copy at a reduced price until the book is retailed from October 2017.
PUSH TURN MOVE is written by Danish designer, author, lecturer and electronic musician Kim Bjørn and edited by Mike Metlay, editor at Recording Magazine and Paul Nagle, reviewer at Sound on Sound Magazine. 
BUY HERE: https://goo.gl/sFTsW6