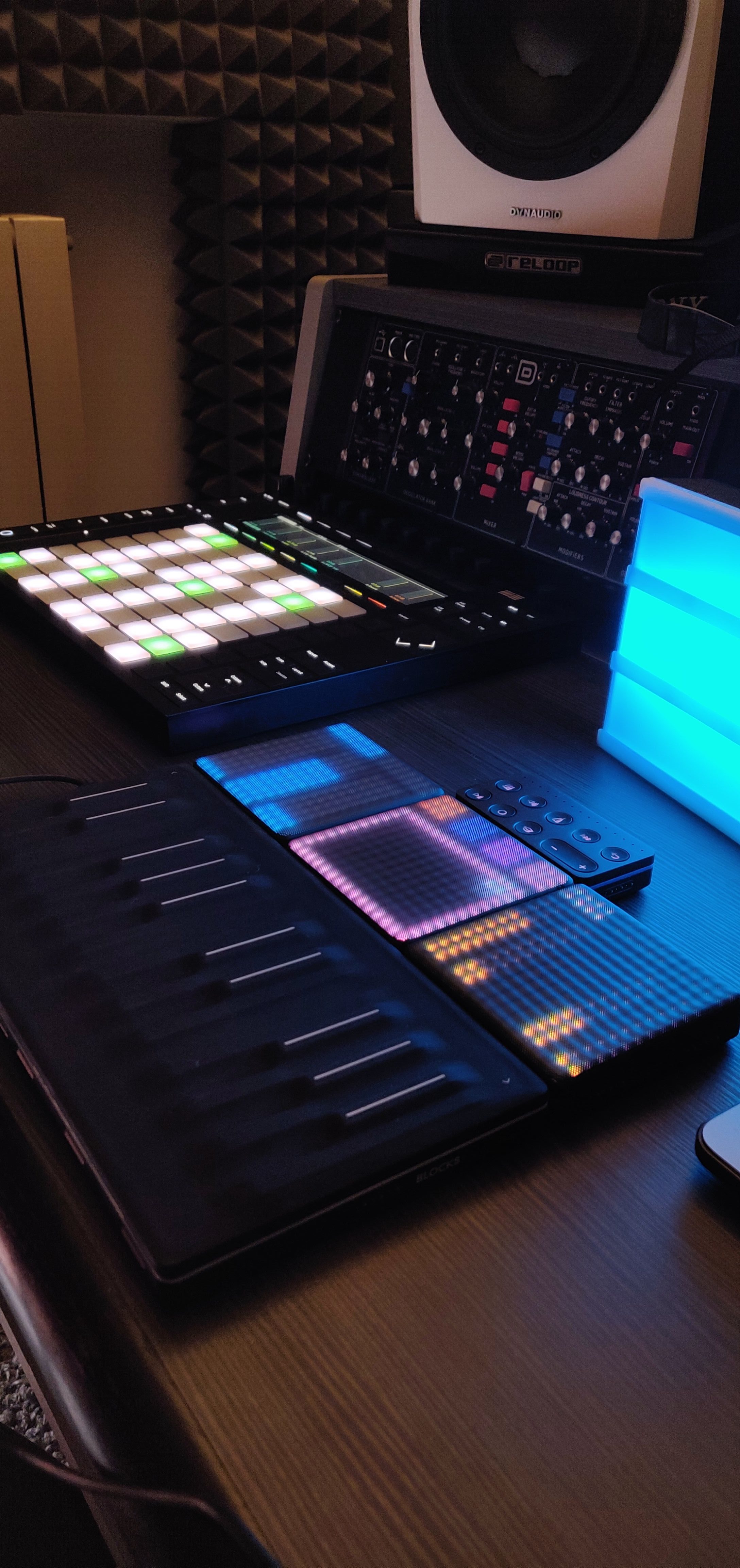 Included with the ROLI Blocks Studio Edition series instruments you will find (via download: register on https://my.roli.com) the virtual instruments ROLI Studio Player and ROLI Studio Drums. Compatible with PC and Mac computers, these virtual instruments can be used both independently and as plug-ins in DAW software, providing you with more than 400 ready-to-use sounds already set up for MPE controllers.

Hundreds of sounds that include acoustic instruments, synths and drums easily consulted and loaded through an extremely intuitive browser. ROLI Studio Player collects the best patches of known virtual instruments compatible with the MPE control standard: Equator, Cypher2 and Strobe2. This powerful virtual instrument also provides features such as Smart Chords and Multi-Layered Arpeggiator to give your creativity an extra boost, which you can express in live performances and studio productions.

ROLI Studio Drums is instead the first plug-in dedicated to MPE batteries, with a wavetable composed of over 100 one-shot audio samples of reproducible quality that can be manipulated in real time, which includes various parameters of direct modification on individual samples and kits, including 4 effects controllable by the X / Y axes of your Lightpad.
With the ROLI Dashboard software you can configure your Seaboard Block and your Lighpad M Block adapting them to the traditional MIDI mode or to the MPE, set the layout of the Lightpad most useful to you (matrix, drum, fader, X / Y) taking advantage of various presets for a truly plug-n-play experience with the most popular DAW and plug-in software. Dashboard is an application for MacOS and Windows that will also allow you to keep your ROLI tool up-to-date by downloading and installing the latest Firmware version directly.
What's new with BLOCKS Studio Editions?
Whether you're new to BLOCKS or already making music with it, there's a lot to explore with ROLI Studio and BLOCKS Studio Editions.
More sounds, all in one place: 100s of MPE sounds from ROLI's Equator, Cypher2, and Strobe2 sound engines are now browsable in a unified desktop plugin: ROLI Studio Player. Includes cutting-edge audio effects and macros.

A game-changing way to play drums: ROLI Studio Drums is the world's first MPE drums plugin. Bend drum sounds and create grooves on the surface of the Lightpad Block. This expression has never been possible before via desktop software.

New songwriting tools: ROLI Studio Player features new songwriting tools like Smart Chords, which speeds up songwriting by suggesting chord progressions per note. The Multi-Layered Arpeggiator lets producers creative interactive rhythmic patterns.

Deeper integration of BLOCKS and ROLI software: ROLI Studio integrates BLOCKS more deeply with sounds and production tools that were spread across ROLI synths. Lightpad modes deepen the integration further on the Lightpad Block.

Easier DAW integration: ROLI Studio Player and ROLI Studio Drums both work as plugins with all leading DAWs. It's never been easier to produce with BLOCKS and ROLI sounds inside of Logic Pro X, Ableton Live, Bitwig, and other DAWs.

The most advanced Blocks ever: Blocks have improved on many fronts in the past two years. Better finger tracking, MPE expression outputs, and multi-Block connectivity are some of the enhancements that make the Studio Editions the most playable Blocks yet.