The Best Free Music Software and VST Plugins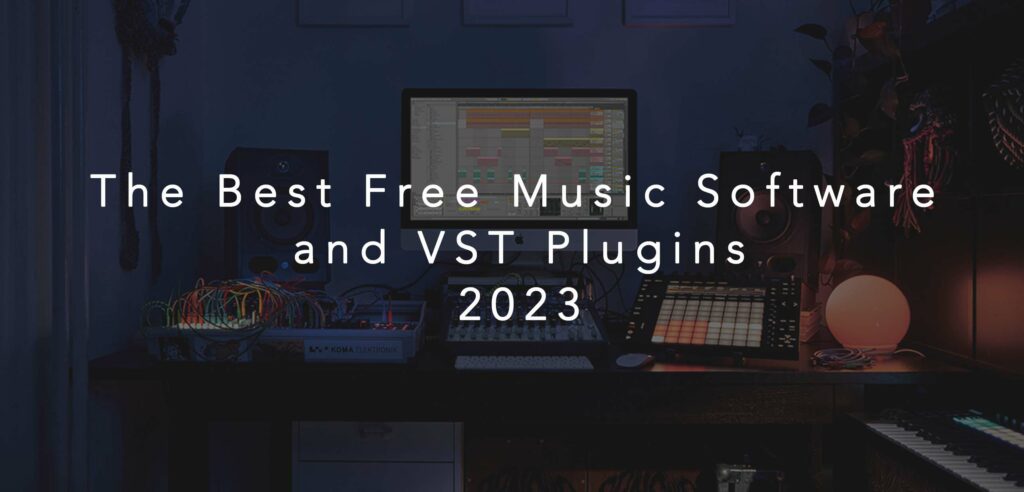 If you're eager to create music on your computer without breaking the bank, free music software is your ticket to ride. Whether you're rocking a PC, a Mac, or an iPad/iPhone, there's a wealth of top-notch software out there that won't cost you a dime. All you need to do is discover it.
Discovering the Gems
Fortunately, you don't have to embark on an extensive search because we've done the legwork for you. Below, you'll find our curated selection of the finest free music software currently available, ready for you to download and start creating.
Whether you're in need of an audio recorder/editor, a Digital Audio Workstation (DAW), instrument/effect plugins, or DJ software (or perhaps all of the above), we've got you covered.
Don't make the mistake of assuming that free software equates to subpar quality. Everything featured below is fully functional and more than capable of aiding you in crafting exceptional-sounding music.
In fact, once you've experienced the remarkable capabilities of free music software, you may find yourself questioning the need to invest in commercial releases ever again.
Unveiling the Gems
Here are our top picks for the best free music software:
Compatible with PC, Mac, and GNU/Linux
Even if you've never dabbled in computer-based music creation before, chances are you've heard of Audacity. It has long been the go-to free software for recording and editing audio, whether it's a musical performance, podcast, or any other type of sound.
In addition to essential editing features like cut, copy, paste, and delete, Audacity boasts built-in effects and supports VST and AU effect plugins. It offers extensive import and export options as well.
Available for Mac, iPhone, and iPad
The most renowned free DAW, bundled with every Mac and freely accessible on iOS devices. GarageBand simplifies music creation for virtually anyone.
Not only can you record audio from your guitar or microphone, but you also gain access to a diverse array of software instruments that can be played using a MIDI keyboard. You'll find rhythmic and instrumental loops galore, and Apple's exceptional Drummer lets you craft customized drum tracks to fit your projects.
The effects library includes virtual guitar amps and stompboxes, and there are ample editing and mixing features to polish your tracks. If you ever feel the need for more features, Logic Pro offers a seamless upgrade path on the Mac, as much of the functionality aligns, and GarageBand projects can be imported into it.
Compatible with PC, Mac, Linux, and Raspberry Pi
Another standout free DAW, the latest iteration of Waveform Free is based on Tracktion's paid DAW, Waveform Pro 12. It imposes no restrictions on track counts, exporting/rendering, project saving, or the use of third-party plugins. It doesn't have a time limit either.
The 2022 version of Waveform Free introduces a completely revamped browser that allows you to specify tags, favorites, and smart lists. Additionally, 15 audio effects have been refreshed, and six utility plugins have been added, including a convert-to-mono tool and a spectrum analyzer.
All in all, Waveform Free is so capable that you'll wonder why you didn't have to pay for it. You can upgrade to the Pro version whenever you're ready.
Compatible with PC and Mac
Once you've secured your free DAW, you'll likely want some free plugin synths to complement it. OB-Xd (VST/AU) might not be the flashiest synth on the market, but it remains a favorite freeware synth thanks to its combination of user-friendliness and excellent sound.
This is an emulation of Tom Oberheim's classic OB-X polysynth, renowned for its rich sound and intuitive interface.
OB-Xd lives up to its inspiration on both fronts. Sonically, it rivals many paid analog emulations, and it offers a morphable filter design and voice variation controls, enhancing the original design.
Compatible with PC and Mac
Spitfire Audio's sample-based LABS series has become a secret weapon for producers in recent years. The range is regularly updated, and each instrument focuses on a specific type of sound, providing you with simple controls to tweak it.
Don't let the simplicity fool you; many of these sounds are characterful and expressive enough to serve as the foundation for entire tracks. The Soft Piano is a particular favorite, and there are plenty of experimental synth, string, percussion, and experimental instruments to explore.
You can select which instruments you'd like to download, but our recommendation is to grab them all and dive into creative exploration.
Compatible with Mac
This streamlined version of the impressive DrumSpillage is a sleek and stellar-sounding percussion synthesizer. While it offers three synthesis algorithms compared to the paid version's 13, it still delivers a surprising range of tones.
The Bass Drum generator combines pitch sweeps and frequency modulation to create impactful kick tones. The Hi-Hat module blends multiple oscillators, noise, and resonant filters to produce metallic and machine-like sounds. Finally, the Wood Drum models various toms, wooden knocks, and mid-range percussive sounds.
Filters, distortion, and modulators add movement and flexibility, making MiniSpillage more than just a one-trick drum generator.
Compatible with PC, Mac, and Linux
No roundup of the best free music software would be complete without Togu Audio Line, a legendary name in freeware known for its impressive, vintage-inspired offerings (and their paid plugins are equally impressive).
TAL-Reverb-4 is a retro-leaning plate reverb with extensive size and diffuse controls, ranging from tight echoes to expansive ambience. An onboard modulation section introduces movement, creating authentic '80s-style 'wobbly' reverb, while high and low EQs allow for tonal shaping.
TAL-Reverb-4 is simple yet highly effective on various audio sources, making it a must-have, even if it weren't free!
Compatible with PC and Mac
ValhallaDSP is renowned for its commercial reverb and delay plugins, but it has also generously provided several must-have freebies over the years, such as the excellent Freq Echo and Space Modulator. SuperMassive is the latest addition, and it's undoubtedly one of the slickest and most potent free effects we've encountered.
Straddling the line between an echo unit and a reverb, SuperMassive is a stereo, multi-mode delay capable of generating extreme feedback and dense repeats. It's perfect for sparking sound design ideas.
With multiple delay types, a generous selection of presets, an interactive help guide, and, most notably, stunning sound quality, SuperMassive is a must-have, even without the price tag!
Compatible with PC and Mac
Alongside iconic hardware effects like the LA-2A compressor and Roland Space Echo, Pultec EQs are among the most frequently emulated. Thanks to Ignite Amps, you can now add a high-quality Pultec EQ to your digital toolkit for free.
PTEQ-X isn't just one Pultec EQ; it features models of the brand's three most famous hardware effects, including the EQP-1A, known for the famous 'Pultec trick.' This technique allows users to cut and boost around the same low-end frequency, enhancing bass and kick sounds.
Compatible with PC, Mac, and iOS
Filterstep is a sequencer-focused multimode filter with low-, high-, and band-pass modes. The sequencer boasts adjustable length up to 64 steps, each equipped with a slider to set the filter cutoff level. It can cycle through steps in several directions – forward, backward, and back-and-forth – and offers randomization and smoothing tools for precise sequence tuning.
The resonant filter alone makes Filterstep worth downloading, but the ability to create rhythmic patterns and automated sequences makes it indispensable for a wide range of applications.
Compatible with PC, Mac, Linux, and iOS
An undeniable freeware classic, RoughRider is one of the most downloaded dynamics plugins of all time, according to its developer. It's easy to see why; this compressor is characterized by its personality and user-friendly design.
Version 3 adds a sidechain input, improved metering, and a 'full bandwidth' button that allows users to disable the analog-style 'warming' effect. RoughRider 3 is also available in AUv3 format for iOS.