After using Nimbustor4 (AS5304T) I solved many of my problems! Now I have all my musical projects in a safe place! Thanks to ASUSTOR NAS I can now recover a file very quietly without being afraid of losing any music file or document!
As a musician I needs a lot of space. Any musical project can occupy 1 GB.
Usually 20 songs will be produced in a month by me so I needs more space to store my music file.
I tried Google Drive, but the space was not enough to save all my musical projects, besides, a public cloud solution could leave my confidential data completely exposed to cyber thieves. This damage could have legal and financial implications for the business.
After searching the best NAS on the web I discovered ASUSTOR NAS, it is an excellent product for quality and price! It is ideal for my work as a music producer! Besides, ASUSTOR mobile applications provide access lock functions to protect privacy and data. Not only the NAS performance is good, it also works very quietly!
I also noticed through ASUSTOR's mobile Apps, such as Aidata, AiDownload and AiMusic, I can organize all the musical files and access remotely. This is not only solving the problems of saving file, but also makes my does musical composition more effectively and freely. Also with EZ Sync, I can create unique melodies anytime, anywhere and make sure all creativity are saved properly in the NAS.
This is AMAZING!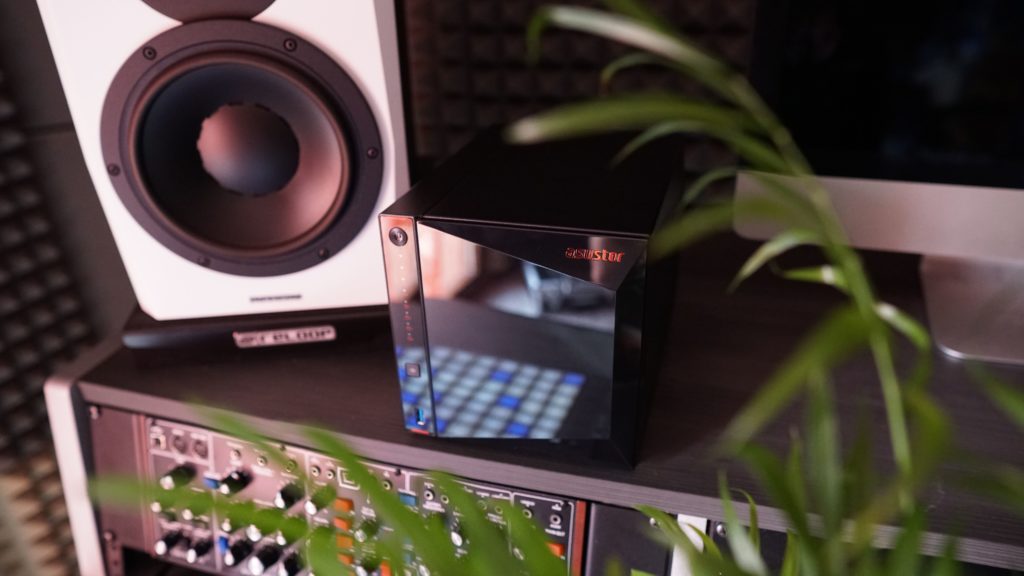 Asustor Nimbustor 4 is a new model of the ASUSTOR home designed for home storage or for the professional, with an eye on the gamer world, or rather the streamer.
I use it to store all my musical projects!
As is customary for Asustor models, the price / performance ratio is interesting, and even the software sector, which is constantly on the rise, offers different opportunities even in roles different from those for which it is proposed.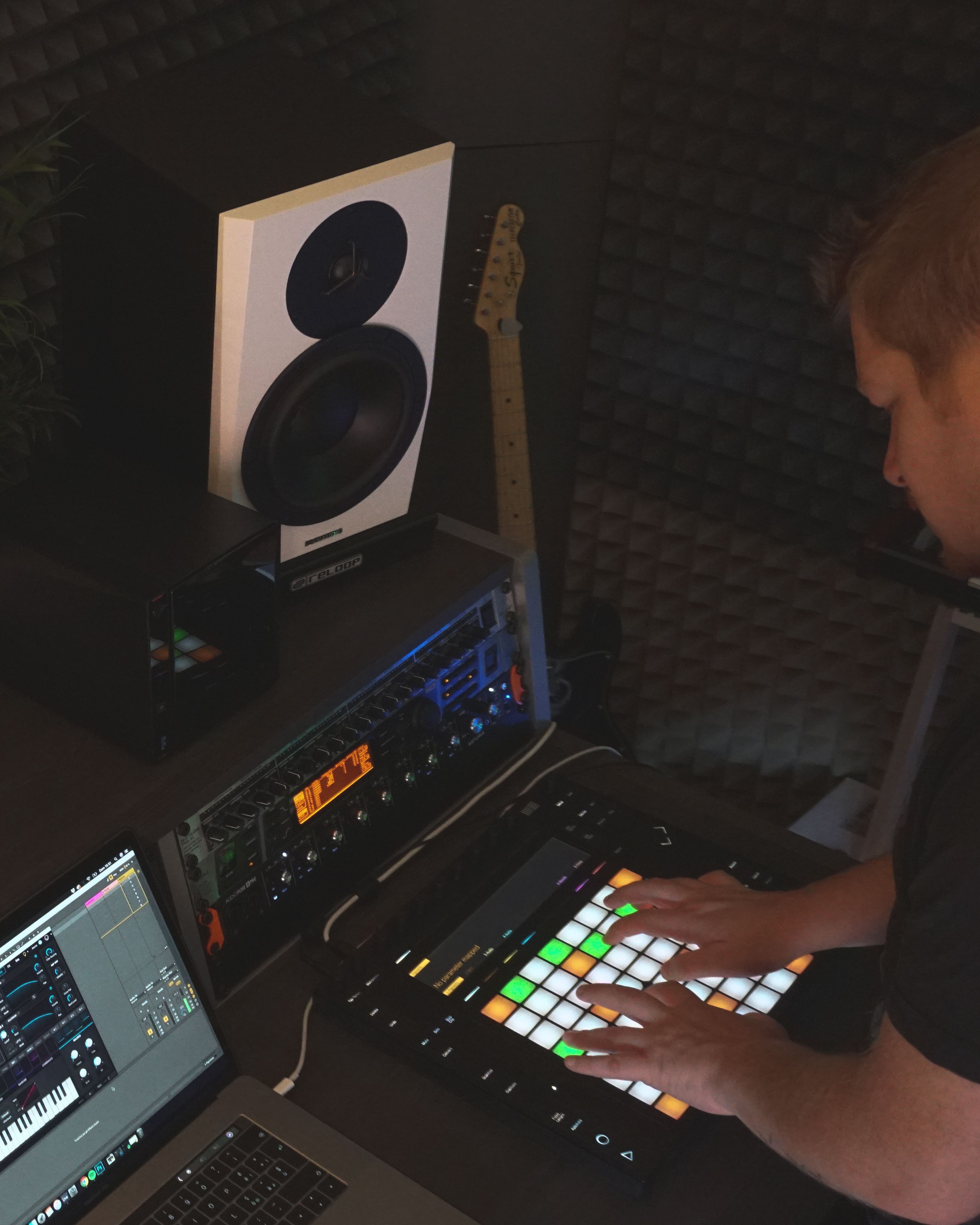 Unlike several other brands, Asustor invests heavily in packaging, finding interesting solutions already from the box, which does not seem as austere and essential as most NAS on the market.
Once opened in the product, this immediately shows itself in its elegant black suit, just like a shiny front cover (which magnetically covers the two sleds) and the red logo that gives it a decidedly aggressive look: it's hard not to think of a James Bond at a gala, with a red rose in the buttonhole.
The front is dominated by the glossy plastic cover, with the operating LEDs on the side and a USB-A socket. On the back, two more USB-A ports, one HDMI, the power supply and two 2.5 GbE Ethernet ports, which support link aggregation.
My Backup Is Everything
In the last few years of production and with the rapid increase in content creation, a lot of information needs to be backed up.
For this reason the only solution is a NAS,
has the ability to create a high capacity solution, it is easy to expand and is easy to use and accessible when you are out of the studio.
For this reason the best solution is an Nimbus 4,
nice and simple to install for hard drives.
To simplify the synchronization of my music projects between my laptop and the ASUSTOR NAS, I use EZ Sync.
MyArchive
The MyArchive function allows you to use hard disks as removable storage archives. Plug in an archive when you need it and swap it out for a different archive when you don't. Enjoy 'plug and play' convenience as you swap between different data collections. Furthermore, the MyArchive function helps you to save power as the archives you are not using can be taken out for storage and do not always have to be powered on.
Considerations
The vote for a product like Asustor Nimbustor 4 is certainly high: the NAS is powerful, versatile in the app, just easy to manage the network, all in a perceived silence, if like us you are used to certain devices noisier.
Keeping all previous work safe is imperative for me and with ASUSTOR my music is safer than ever.
This amazing NAS also has a 3 year warranty
I love it!
For more information: CLICK HERE
ITALIAN VERSION: 
Dopo aver usato Nimbustor4 (AS5304T) ho risolto molti dei miei problemi! Ora ho tutti i miei progetti musicali in un posto sicuro! Grazie al NAS ASUSTOR ora posso recuperare un file in modo molto silenzioso senza aver paura di perdere file musicali o documenti!
Come musicista ho bisogno di molto spazio. Qualsiasi progetto musicale può occupare 1 GB.
Solitamente 20 canzoni verranno prodotte in un mese da me, quindi ho bisogno di più spazio per memorizzare il mio file musicale.
Ho provato Google Drive, ma lo spazio non era sufficiente per salvare tutti i miei progetti musicali, inoltre una soluzione di cloud pubblico poteva lasciare i miei dati riservati completamente esposti ai cyber ladri. 
Dopo aver cercato il miglior NAS sul web ho scoperto ASUSTOR NAS, è un prodotto eccellente per qualità e prezzo! È ideale per il mio lavoro di produttore musicale! Inoltre, le applicazioni mobili ASUSTOR forniscono funzioni di blocco dell'accesso per proteggere la privacy e i dati. Non solo le prestazioni del NAS sono buone, ma funzionano anche in modo molto silenzioso!
Ho anche notato tramite le app mobili di ASUSTOR, come Aidata, AiDownload e AiMusic, che posso organizzare tutti i file musicali e accedervi da remoto. Questo non solo risolve i problemi di salvataggio dei file, ma rende anche la mia composizione musicale più efficace e libera. Anche con EZ Sync, posso creare melodie uniche sempre e ovunque e assicurarmi che tutta la creatività sia salvata correttamente nel NAS.


Asustor Nimbustor 4 è un nuovo modello della casa ASUSTOR progettato per l'archiviazione domestica o per i professionisti, con un occhio al mondo dei giocatori, o meglio allo streamer.
Lo uso per archiviare tutti i miei progetti musicali!
Come è consuetudine per i modelli Asustor, il rapporto prezzo / prestazioni è interessante e anche il settore del software, che è in costante aumento, offre diverse opportunità anche in ruoli diversi da quelli per i quali viene proposto.
A differenza di molti altri marchi, Asustor investe molto nel packaging, trovando soluzioni interessanti già dalla confezione, che non sembrano così austere ed essenziali come la maggior parte dei NAS sul mercato.
Una volta aperto nel prodotto, questo si mostra immediatamente nel suo elegante abito nero, proprio come una copertina anteriore lucida (che copre magneticamente le due slitte) e il logo rosso che gli conferisce un aspetto decisamente aggressivo: è difficile non pensare a un James Incolla ad un galà, con una rosa rossa nell'asola.
La parte anteriore è dominata dalla copertura in plastica lucida, con i LED di funzionamento sul lato e una presa USB-A. Sul retro, altre due porte USB-A, una HDMI, l'alimentatore e due porte Ethernet da 2,5 GbE, che supportano l'aggregazione dei collegamenti.
Il mio backup 
Negli ultimi anni di produzione e con il rapido aumento della creazione di contenuti, è necessario eseguire il backup di molte informazioni.
Per questo motivo l'unica soluzione è un NAS,
ha la capacità di creare una soluzione ad alta capacità, è facile da espandere ed è facile da usare e accessibile quando si è fuori dallo studio.
Per questo motivo la soluzione migliore è un Nimbus 4,
bello e semplice da installare per i dischi rigidi.
Per semplificare la sincronizzazione dei miei progetti musicali tra il mio laptop e il NAS ASUSTOR, utilizzo EZ Sync.
Archivio Personale
La funzione MyArchive consente di utilizzare i dischi rigidi come archivi di archiviazione rimovibili. Collega un archivio quando ne hai bisogno e scambialo con un altro archivio quando non lo fai. Goditi la comodità di "plug and play" mentre passi da una raccolta di dati all'altra. Inoltre, la funzione MyArchive ti aiuta a risparmiare energia poiché gli archivi che non stai utilizzando possono essere rimossi per l'archiviazione e non devono sempre essere accesi.
Considerazioni
Il voto per un prodotto come Asustor Nimbustor 4 è sicuramente alto: il NAS è potente, versatile nell'app, semplicissimo da gestire in rete, il tutto in un silenzio percepito, se come noi sei abituato a certi dispositivi più rumorosi.
Mantenere tutti i lavori precedenti al sicuro è fondamentale per me e con ASUSTOR la ​​mia musica è più sicura che mai.
Questo incredibile NAS ha anche una garanzia di 3 anni